-EDUCATION-
HALO OFFERS EDUCATIONAL OPPORTUNITIES TO UNIVERSITIES, GROUPS AND ORGANIZATIONS FOCUSED ON ENHANCING KNOWLEDGE AND AWARENESS OF FACTORS ASSOCIATED WITH SECONDARY TRAUMATIC STRESS, VICARIOUS TRAUMA, AND COMPASSION FATIGUE AS WELL AS OPPORTUNITIES FOR GROWTH. SCOPE OF PRESENTATIONS ARE INDIVIDUALLY TAILORED TO SPECIFIC NEEDS AND INTERESTS OF PATRON.
ONE EXAMPLE OF WHAT WE DO:
(HALO's Video on STS for First Responders)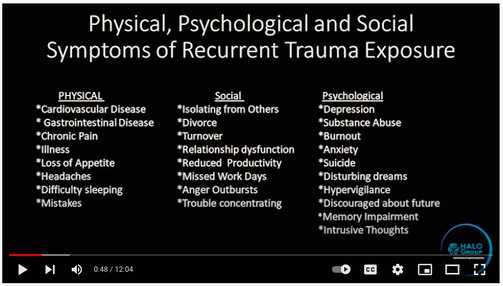 ​
-Organizational Assessment-

Halo offers independent, individualized, confidential and comprehensive screening and assessment of all employees for Secondary Traumatic Stress, Vicarious Trauma, and Compassion Fatigue. Halo also assesses organization for trauma informed, trauma sensitive and trauma specific policies and practices.

-Trauma Informed Supervision-

Halo provides education on trauma specific supervision with a focus on early identification, active management of Secondary Traumatic Stress and Vicarious Trauma, as well as emphasis on Secondary Traumatic Growth, Vicarious Resilience and Compassion Satisfaction. This increases an organization ability to effectively and efficiently help the helpers.

-Data Collection and Analysis-

Halo will assist in gathering and analyzing data on Secondary Traumatic Stress, Vicarious Trauma and Compassion Fatigue allowing you to have the data that supports your claim of being a Trauma Informed provider and focus your efforts on implementing trauma sensitive and specific policies and practices.

Full Consultative Package

-Organizational Trauma-Informed Transformation/Growth-
Halo meets organizations where they're at, identifies strengths, areas for growth and motivations for becoming a trauma informed organization. HALO will use a four phase structured and evidenced based approach which is organizational specific and includes the following:

PHASE I resliency Education
-HALO learns about your organizational motivation, structure and needs.
-HALO provides education to ALL Employees based on position, responsibilities and degree of exposure to trauma.
-HALO uses seminars, small groups and one to one didactic education formats as indicated.

PHASE II Assessment
-Building on knowledge of your organization, HALO utilizes organizational and individual specific screening and assessment tools that are standardized, industry accepted, valid and reliable.
-HALO collects data which is used to inform the development of individualized organizational Trauma Informed realignment plan

PHASE III Implementation/Realignment
-HALO works with leadership in developing organizational specific Trauma Informed realignment plan (TIRP).
-HALO brainstorms and collaborates with Organization to implement Trauma Specific changes identified in TIRP.
-These trauma specific strategies Will Depend Upon the Research Findings and Your Organization's Unique Strengths, barriers and identified opportunities for growth

PHASE IV Measured Outcomes/Support
-HALO uses qualitative and quantitative measures to demonstrate/validate progress made toward becoming a Trauma Informed Organization.
-HALO works to ensure that effort and resources invested to become a Trauma Informed organization are enduring and sustainable by providing ongoing support and consultative services

-Advocacy for resiliency-
HALO actively advocates for social, legislative, organizational and personal awareness of the need to support trauma informed practice. HALO recognizes that it "takes a village" and "spreading out the weight" is critical to success and longevity of our helper organizations and helpers.